Improved efficiency and gender equality
Many programmes targeted at improving quality and quantity of products of farmers in (agricultural) value chains suffer from low efficiency and male farmers dominate these programmes, despite efforts to involve women. A lot of money is spent with disappointing  results. Production only improves marginally, and more gender equality is not achieved. By using the Gender Action Learning  for Sustainability at Scale (GALSatScale) method, the programme efficiency as well as gender quality improves. Husband and wife cooperate to improve production together, and the whole family benefits. 
ECOM Agroindustrial Co.Ltd. implemented the GALS methodology in Tanzania, Kenya, Uganda and Indonesia will much success. 
Sue Garnett, Sustainability Manager ECOM Agroindustrial Co. Ltd. http://www.ecomtrading.com/.  Catherine has been developing and implementing various gender and youth components in Tanzania, Kenya, Uganda and Indonesia:  " I cannot think of a better partner to help us with writing and implementing our project proposals in your area of expertise, ie Gender and Youth."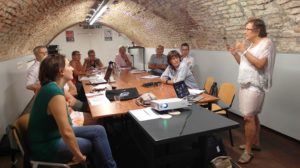 I am Catherine van der Wees, a development sociologist, with more than 30 years experience in gender issues in value chains. I struggled with the implementation of gender in programmes while working for ILO in the Eighties. I found out that working with women alone does not yield sustainable solutions. In 2013 I started working with Linda Mayoux, who developed the GALSatScale methodology. I designed and implemented various programmes with coffee traders, roasters, NGOs and international donors in East Africa and Indonesia. I love the changes in the lives of women and men, which start immediately during and after the training. The farmers scale up the methodology themselves using their peer networks. I facilitated the training of GALS experts in these countries and this way became part of a global GALS network. For my CV, click curriculum vitae
I use  the Gender Action Learning for Sustainability approach and methodology, developed by and copyright Linda Mayoux. See for more details of this approach and the application in different context see under Approach and GALS@scale

Together with a worldwide team of experts, I made  publications possible such as the Coffee toolkit 2015 and A future in coffee: Growing a new generation of coffee professionals
I am a member of the  Gender Action for Mainstreaming and Empowerment to Change Network and  GameChange Network Blog 
I am a member of  NEDWORC Foundation and  Association
I am  also a member of   WO=MEN, Dutch Gender Network
.. and a member of the  Global Coffee Platform

Would you like to receive the checklist to get you started on gender in your programmes, and receive monthly tips, get in touch! Contact