The following documents  can be downloaded free of charge:
NEW 1 October 2017!
Gender Analysis in the Coffee Value Chain using the Do No Harm Approach written by Catherine van der Wees and Hilde Hulst-Mooibroek
At the occasion of International Coffee Day, 1 October 2017, we call attention to the issue of gender in the coffee chain. Since this day – apart from celebrating coffee as a beverage – is also used to  raise awareness of the plight of coffee growers, including women.
Doing a gender analysis remains a difficult task. Many organisations and individuals struggle with it There are various methods to do a gender analysis and there is not one method that suits all purposes. In this paper, we explore the Do No Harm approach, which is based on the Do No Harm Principle.
How to green food systems in a gender smart way written by Verona Groverman & Catherine van der Wees
The paper discusses how to green food systems in a gender smart way by giving insights and smart interventions.
Current food systems pose serious problems of sustainability. A solution is sought in greening of such systems which refers to investments to improve human well-being and social equity, reduce environmental risks and ecological scarcities. The authors unravel the relation between food systems and gender equality building on knowledge, experience and good practices in the field of agriculture, climate change, food security and value chain. It results in interventions suitable for development organisations and companies to promote a sustainable food system with a strong social equity dimension, in other words, gender-smart greening of food systems.
Women's contribution in coffee sector in Brazil invisible
This paper is an interview with Josiane Cotrim, a Brazilian woman, who describes that the lack of data makes the women in the coffee sector in Brazil invisible. The International Women in Coffee Alliance, Brazilian Chapter, is taking action to address this situation.
How gender was implemented with 2 traders in the Coffee Partnership for Tanzania
This article gives the impact both on coffee  productivity  and gender in farming households with Tutunze and CMS using the GALS methodology under the Coffee Partnership for Tanzania
Building evidence from gender action learning for sustainability at scale implementation
This article brings together both quantitative and qualitative evidence from the implementation of private sector-led gender components in  coffee programes in East Africa and Indonesia.
The toolkit was developed for the coffee industry, in response to demand for knowledge on how to best integrate women and youth in the coffee value chain and provides practical approaches and tools for stakeholders and service providers. The contents of the coffee toolkit should serve to  motivate and assist coffee roasters and traders and their practicioners to apply an inclusive approach to develop better functioning coffee chains equally benefitting both women and men of different age groups. It provides practical approaches and tools for all stages in value chain interventions.
"This toolkit is also a good example of a multi-stakeholder initiative that would not have been possible without the precompetive collaboration of both the public sector, farmers, trade and industry. This type of collaboration is needed in the coffee sector to accelerate sustainable development and improve farmer livelihoods in coffee production" – Ted van der Put, Program Director of the Sustainable Coffee Program, in the Preface of the Coffee Toolkit.
On 19 November 2015 the Spanish version of the Coffee Toolkit "Caja de Herramientas, Café Sostenible como negocio para la inclusión de mujeres y jovenes" was launched by Hivos in Guatemala-City.  The toolkit is a joint publication of Hivos, Agri Pro-Focus, Fair and Sustainable Advisory Services and IDH. Hivos financed the translation into Spanish.  During the launch the benefits of the different strategies and tools to include women and youth were highlighted: inclusion impacts  productivity and quality of coffee as well as improves equality between women and men of different age groups. I was the one overall responsible for the toolkit.
A future in coffee: Growing a new generation of coffee professionals
This study provides 5 case studies of successful programmes to integrate youth in the coffee sector worldwide, it identifies successful strategies that attracted young people back to the coffee sector and draws lessons from these experiences.
"In all of these cases described, rural youth moved from a situation of hopelessness and apathy to becoming proudly interlinked into the global market".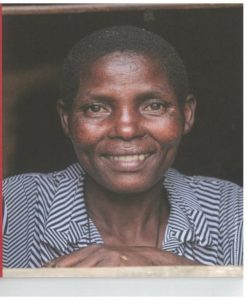 Dina's story
Dina is a widow living in the mountains of Northern Tanzania. She was  one of the twenty champions who were trained in the Gender Action Learning for Sustainability at Scale in October 2013. Read here how the training  changed her life.
Contact: info@gendersmartsolutions.nl