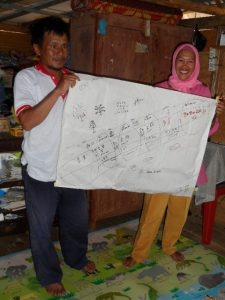 Introduction
IndoCafCo (ICC) together with Hivos started a programme in 2016 in Semendo in Sumatra, Indonesia. The programme was funded by IDH and JDE.
Below is a description of the gender component of the programme, in which I am involved.
The problem
In Semendo, South Sumatra, there are a lot of challenges in coffee, and most farmers feel their quantity and quality of coffee is not yet such that they can sell to ICC, they also see transporting the coffee to ICC as a constraint, and do not own bank accounts. They expect much for a cooperative society at village level. Here is much potential for ICC. The indebtedness of farmers to middlemen is widespread.
In relation to gender aspects, there is gender inequality in almost all aspects: ownership, decision making, expenditures, productive and reproductive labour. Men do more productive labour, and are involved in a number of income generating activities, such as motorcycle taxi, daily wage labour in construction and agriculture, women also do daily wage labour in agriculture. However, women earn much less (Rp. 30,000) than men (Rp 50,000 / day), despite equal pay legislation.  Both men and women are involved in coffee production, and postharvest activities, as well as in growing paddy. Women do much of the reproductive work.  Mostly women and men discuss issues before the men takes the final decision. Women can take their own decisions in relation to paddy and their own business. As Semendo is a matrilineal society, first born daughters inherit both house and land from their parents, making the ownership of assets less unequal.
The intervention
In April 2016 a gender training was conducted with IndoCafco and Hivos in Semendo, South Sumatra, Indonesia, 10 women and 10 men participated in the training, made their vision, ananlysed the constraints and actions to increase their coffee income, did a gender analysis on their own family using the Happy Family Tree, and made their multilane household vision plan, as you can see in this picture.
In the following week the same coffee farmers, champions, facilitated almost 100 people in their own villages in making a vision and a  household vision plan.
First results
The champions commited to changes, such as reduce smoking by the men, reduce expenses on makeup and clothes by the women, and the men committed to support their wives in setting up a new business.
As this farmer described:
"At first I was sceptical about the training, but then I realised that this was indeed working for me"
He stopped smoking and put the savings in a savings box.
Through the training the champions became more aware of the gender issues, developed a vision as a couple and their first intended change focusses on reducing costs, and increasing income through an additional business for the wife, supported by the husband, thereby setting important first steps in the reduction of debt and dependence of the moneylender, in a gender sensitive way.  Through monitoring of their coffee production and comparing with non-GALS champions the project will be able to monitor changes in this area as well.
Get involved
Also want to improve the lives of female and male (coffee)  farmers? Get involved! Get in touch!